K Road Power said yesterday it had acquired the planned Calico solar power project from struggling Tessera Solar at an undisclosed price. In making the announcement, K Road said it would largely ditch Tessera's plan to use a concentrating solar power technology supplied by Tessera sister company Stirling Energy Systems, and instead would begin developing Calico using photovoltaic modules.
None of these developments come as a huge surprise. Just last week, Southern California Edison withdrew from a contract with Tessera to purchase power from the approved-but-not-built Calico plant, near Barstow, Calif. At nearly the same time, a federal judge blocked Tessera from advancing on a similar project set for the Imperial Valley.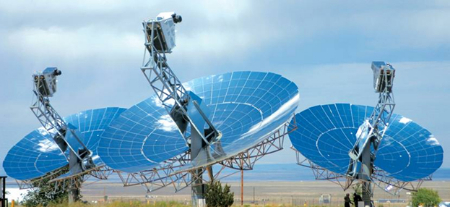 With the K Road purchase, the Calico project will be transformed. K Road said the the first 750 megawatts (MWs) of the 850-MW capacity project would be developed with "widely tested and accepted photovoltaic technology" – technology that has come down in price in recent years. K Road CEO William Kriegel said in a statement the switch was a matter of "insuring the project's immediate financeability, further reducing environmental impacts, and providing the lowest cost solar production to help meet California's renewable portfolio standard."
K Road has also noted to Earth2Tech that "it will need to secure new permits given the use of solar panels for the bulk of the project."
In a September interview with EarthTechling, Pike Research analyst Dave Cavanaugh hinted at trouble ahead for the concentrating solar technology. "With the enormous reduction in the cost of solar PV modules in 2009 and the ability to install PV on commercial and residential rooftops," he said, "we believe that proven and more bankable PV technology has already reached grid parity in much of California and will present CST with a formidable barrier to entry in 2010 and even more so in 2011."
Calico, by the way, is among six big California solar projects that is named in a complaint filed in federal court this week by a Native American organization charging the Bureau of Land Management with running an improper approval process. The group is seeking a temporary restraining order on all six projects.
Like what you are reading? Follow us on RSS, Twitter and Facebook to learn more and join the green technology discussion. Have a story idea or correction for this story? Drop us a line through our contact form.