A $4 billion, public-private Obama administration plan to promote building energy efficiency upgrades over the next two years, announced in December, appears to be taking root. And not surprisingly, it's happening with the military, a key driver of government green programs. Johnson Controls, the diverse Milwaukee-based company with a big building-efficiency arm, said it struck a $16 million deal for work at Fort Bliss, Texas.
The company said it will install 5,500 solar panels as well as new utility monitoring and control systems for 120 buildings at Fort Bliss. When he unveiled the efficiency program President Obama promised it would entail no upfront costs to taxpayers, and that's exactly how Johnson Controls described the Fort Bliss project: The Army won't own the solar installation, and the cost of the improvements "will be paid for over time with energy costs saved on utility bills," Johnson Controls said. The company said it was guaranteeing energy-use reductions to the Army that will lead to savings of $39 million over 24 years.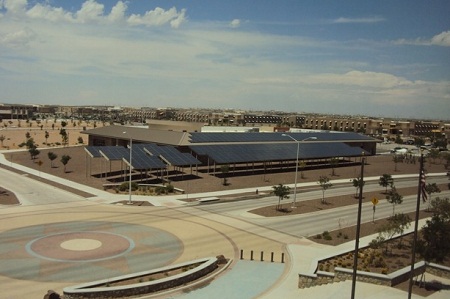 "The U.S. Army has truly embraced the recent directives calling for new energy efficiency measures," Dave Myers, president of Building Efficiency for Johnson Controls, said in a statement. "Fort Bliss is a great example for other U.S. military installations by taking advantage of available financing methods to fund projects that more than pay for themselves through energy cost savings."
Among the "financing methods" being used: a federal renewable energy tax credit totaling $1.87 million. According to Johnson Controls, this is the first Army project to use that mechanism.
The Obama upgrade effort grows out of his Better Buildings Initiative (BBI) unveiled last February. The administration says investments in efficiency will save energy but an even bigger part of its message is job creation. An analysis by the U.S. Green Building Council – the outfit that runs the highly visible LEED programs – found that the BBI would create 114,000 jobs, primarily in the building trades but rippling throughout the manufacturing and services sector as well.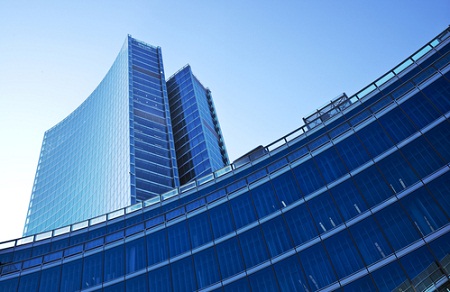 While aspects of the BBI require Congressional approval, the December move by Obama included issuance of a presidential memorandum to federal agencies calling on them to use an existing federal tool, called energy savings performance contracts (ESPCs) – where the cost of the improvements is paid over time with utility-bill savings – to pursue upgrades worth $2 billion.
The liberal Center for American Progress said ESPCs "are particularly advantageous in a gridlocked legislative atmosphere since they do not require additional appropriations from Congress or upfront capital from tight agency budgets." But it wasn't only liberals who backed the president on this one; the administration's move also brought it a rare smooch from the U.S. Chambers of Commerce. The group's chief, Tom Donohue, called ESPCs "a surefire way to create jobs and make our nation's federal buildings more energy efficient, all without using a penny of taxpayer money."
Johnson Controls said that under the federal ESPC program, it "has implemented more than 100 projects for various agencies, including the Army, Department of Energy, Air Force, Navy, General Services Administration, Department of Veterans Affairs, Justice Department and Department of the Interior."