It's no secret that California has been ramping up its solar industry in recent years, due in no small part to the state's aggressive renewable portfolio standard.  A new report from the Centers of Excellence, in collaboration with the Solar Foundation and the Solar Energy Industries Association, takes a look at the solar industry in the Golden State, drawing some interesting conclusions on the future of green jobs across the state.
The report, entitled "Solar Industry & Occupations: Distributed and Utility-scale Generation," focuses on the San Francisco Bay Area, Central California (including the Central Valley and Central Coast) and Southern California. It offers, first, a roll call for the California solar industry: the state is currently home to 3,500 solar firms employing 25,000 people. Based on current trends, it goes on to predict that the state could add as many as 18,000 jobs by 2015.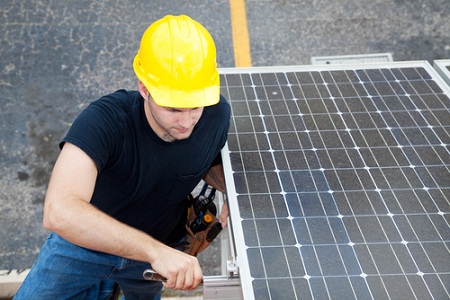 The highest projected growth area for the solar industry during that period? Distributed solar generation—those small-scale, decentralized installations often seen on commercial rooftops—as well as manufacturing and distribution, which is expected to grow by by 40 percent, adding 5,500 jobs in the next year alone.
Here's the catch, though: while California's community college system has done a fine job of training solar installers for the industry—singlehandedly meeting and potentially exceeding the market demand for solar installers in California—the future of solar in these California regions will require different types of skills, which many college programs are not currently equipped to teach.
The study recommends that the 54 community colleges across the regions studied that now feature solar training programs expand their solar curriculum to cover the basics of energy production, power plant management and solar technologies. This will be especially necessary in inland Southern California and the Central Valley, where solar is booming, but the market for installers has been saturated.
While the report is on California, it might also be of interest to those community colleges around the country looking to help students stay abreast of relevant job skills as the solar industry matures. Recently, we've seen a focused collaboration betweem the American Association of Community Colleges and ecoAmerica aimed at helping community colleges develop curricula and certificate programs based around solar, wind, energy efficiency, green building and sustainable education, and, unlike the training programs for many more traditional careers, green workforce training is still a moving target in many ways. By incorporating a job skills relevant to solar manufacturing and distribution into existing programs, community colleges may help to give their graduates a better shot in the always-evolving green job market.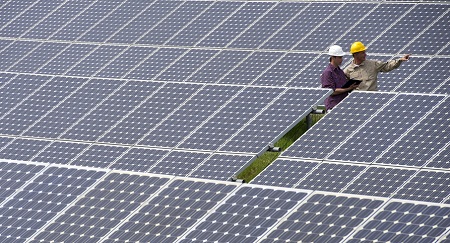 According to a report from Environment California, an advocacy group, 15,000 students are enrolled in 300 green job training programs across 130 California educational institutions, and more than 500,000 people are currently employed in green jobs in the state. It notes that, at present, educational educational institutions are out ahead of policy-makers in driving the market for green jobs—a fact that will need to change if the state is going to realize the full economic benefits of pace of its growing green economy.
As California currently serves as the proving ground for both the solar industry and the solar economy, chances are good that many other states will be paying attention to the relationship between the state's educational institutions and its green jobs force evolves.