The slow revitalization of America's once mighty consumer railway system continued today as the city of Dearborn, Michigan welcomed groundbreaking of a planned LEED intermodal passenger rail station. This station, funded 100 percent through federal money, will pull together existing local and national rail passing through the area with future high speed rail as well as motorized forms of transportation.
The Dearborn Intermodal Passenger Rail Station, according to city officials, is part of a 12-year vision of expanded Michigan passenger rail options. The $28.2 million facility, which got its federal funding last August, is designed to consolidate the city's two existing rail depots into one operation in the western part of Dearborn's downtown.
Described as being pedestrian friendly, the new train station looks to be a vast improvement over existing facilities on site for Dearborn commuters. The 16,000 square foot facility, seen above, is a stark contrast to the current offering, seen below. The new station will offer amenities like free wireless Internet and bicycle racks, as well as exhibits by local organizations and companies.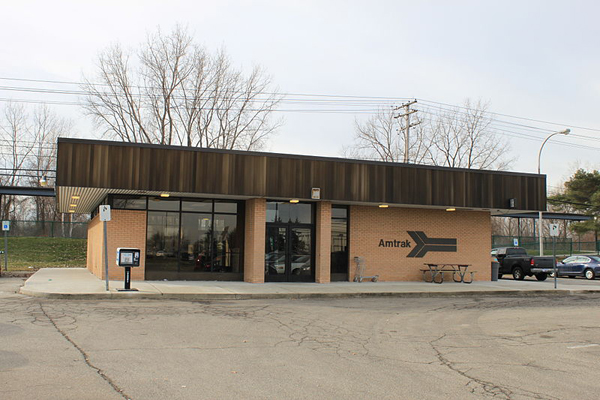 The city of Dearborn, which is the Detroit suburban home of auto manufacturing giant Ford, is also home to the University of Michigan–Dearborn and Henry Ford Community College, whose students reportedly will make good use of the new station. Once completed, the station will also accommodate tourists visiting the Henry Ford Museum/Greenfield Village via a new pedestrian overpass.
As an intermodal station, the Dearborn facility will serve as a hub for current and future forms of transportation. Already in operation options for coming and going from this location will include connections to Amtrak's Wolverine service that extends from Pontiac to Chicago; SMART, DDOT, Greyhound and charter buses; corporate and hotel shuttles; taxis and personal vehicles. Future plans will focus on a proposed Detroit to Chicago high speed rail line as well as an Ann Arbor to Detroit commuter rail line, which reportedly will also allow for easy bus connection to the Detroit Metropolitan Airport.
The new Dearborn facility reportedly will be ready to open by fall 2013. It's estimated, according to city officials, that the intermodal station project will create 280 temporary construction trade positions and, when completed, potentially offer 25 permanent positions.
Architects designing the Dearborn station looked to employ what is said to be "stylistic elements from historic train stations" that "juxtaposes contemporary streamlined elements drawn from transportation cues." Green building elements planned, which it is felt will help reduce station operating costs, include  metal roof with solar collectors; energy efficient lighting; geothermal heating and cooling; and storm water management features, such as rain gardens and bioswales.
"This project is part of a larger strategy to increase the number of potential customers coming to Dearborn every day. Increasing the customer base sustains existing businesses and attracts new activity and investment, "said Dearborn mayor John O'Reilly in a statement.