Its name means "the green way," and the Via Verde affordable housing complex — which recently opened in the Bronx, New York — may indeed show the way toward quality housing that is both affordable and sustainable. Developed by Phipps Houses (a non-profit group) and Jonathan Rose Companies in conjunction withDattner Architects and Grimshaw, Via Verde was the winning concept submitted to the New Housing New York Legacy Competition, NYC's first juried design competition for affordable and sustainable housing, held by the New York City Department of Housing Preservation and Development (HPD), and the American Institute of Architects New York Chapter (AIANY).
The complex features 151 units of affordable rental housing and 71 moderate-income co-op units oriented around a community garden and a series of green roofs. These green areas serve as both a central architectural element and hubs for the community, with the gardens located in a courtyard of the building and the  green roofs where the building steps up from 3-story townhouses at the south to a 20-story tower at the north. (These green roofs also feature south-facing solar panels that produce electricity for basic building operations.) Beyond providing green, relaxing areas for human interaction, the building's gardens and green roofs were designed to dissipate heat (a major consideration in a city known for its brutal urban heat island effect) and absorb rainwater runoff. Rainwater here is harvested for irrigation via a specialized irrigation system, which in turn helps to grow food and community at Via Verde.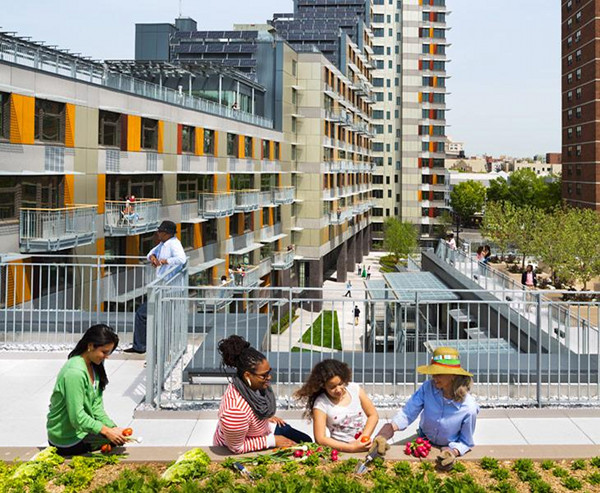 The building, designed to achieve LEED Gold certification, is estimated to be over 30 percent more energy efficient than a building of similar size and function simply built to code. Over 20 percent of the materials used in its construction were recycled, and over 20 percent were locally manufactured; during construction, over 80 percent of the building's demolition and construction debris was recycled. Green features of the building include motion sensors in stairways and corridors; energy efficient lighting; EnergyStar appliances; high-efficiency windows; natural cross-ventilation; low-VOC finishes; super-sealed insulation for maximum efficiency; and low-flow plumbing fixtures.
While Via Verde is certainly the most iconic of green affordable housing in the Bronx — with its stepped form, it cuts a commanding figure in the borough's skyline — it is not the only such development. Located in the Melrose section of the Bronx ravaged by arson in the late 1960s and 1970s, Via Verde is the latest in a series of urban renewal projects that began way back in the 1990s, which has been characterized by Via Verde as a "full-fledged green construction boom." Melrose currently leads the Bronx in LEED-certified apartment complexes.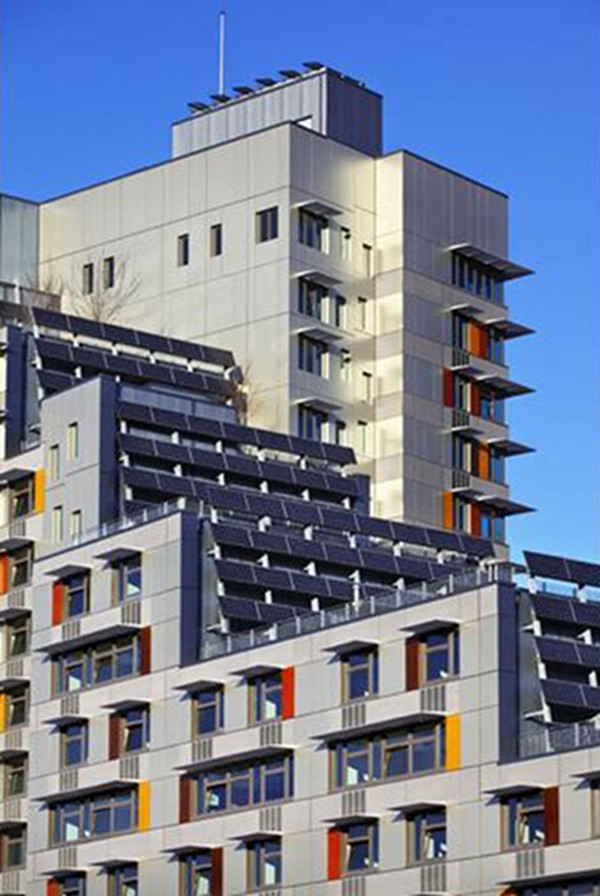 "Twenty years ago, it was inconceivable that the future of this neighborhood would look as bright as it does today," said Mayor Michael Bloomberg, at the ribbon-cutting ceremony this month. "No one would have predicted that today there would one day be one of the most innovative, exciting, environmentally sustainable affordable housing developments in the nation–if not the world."
Bloomberg was joined at the event by Shaun Donovan, secretary of the Department of Housing and Urban Development, who had this to add: "Via Verde is a model for what affordable housing ought to be–a platform for opportunity, a source of stability, a building block with which we forge neighborhoods, put down roots, and build the communities that are the engines of our nation's economic growth."
A key, egalitarian feature of the development: the top floor of the development, which features sweeping views of the city — usually reserved for the penthouse class — functions as a community gathering area.