In today's technology-saturated world, many jobs require us to spend almost the entire day seated in front of a screen. Even when we're not working, we're seated on the couch, or in the car, or at the movie theater. Sometimes it seems like the entire point of the industrial revolution was to keep us from moving unless absolutely necessary.
To counteract this sedentary lifestyle, we buy expensive contracts to huge gyms full of exercise equipment that sucks up tons of valuable energy. Meanwhile, we chug away on the treadmill and eliptical machine, totally oblivious to the energy that's being wasted with every step. The designers behind The Great Outdoor Gym Company (TGOC) spotted this opportunity for energy conservation, and came up with a creative solution.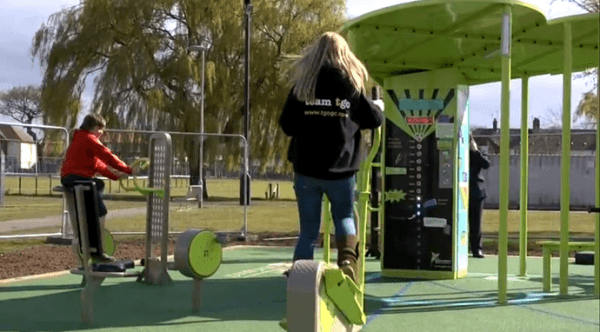 TGOGC already specializes in creating public gyms in outdoor areas. But now, the company's newly developed Green Energy Gym Technology harnesses people power with cardio outdoor gym equipment and then converts it into useable electricity. The company specializes in constructing open-air gyms that encourage people to work out rather than just walk or sit. Power generated by the mechanical functions of the gym is then used to power lights on the equipment and in the surrounding area, encouraging people to stay outside, even after sunset.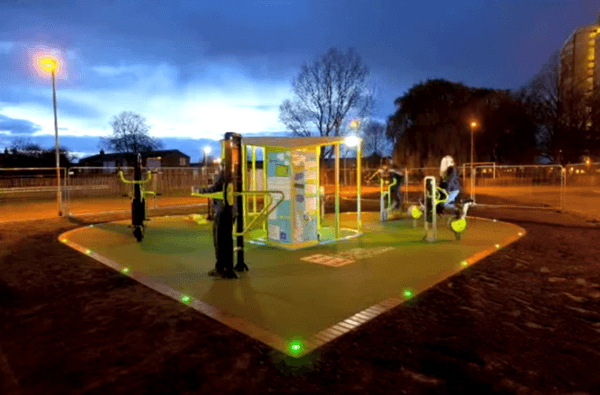 The British company's showpiece is a heart-shaped outdoor gym at Shaw Park in Hull. The gym features cross trainers, hand bikes, fitness bikes, recumbent bikes and People Power display wall that measures the power and energy generated by the public's use of the equipment. The Green Heart in Hull also features medical guidelines for equipment use, scales, height measuring tools, and a BMI index measure to encourage the local community to take those first steps towards healthy living
"Hull City Council was a natural first choice for the pilot of our Green Energy Gym Technology, having successfully worked with us on eight adiZones and outdoor gyms across Hull," said Georgie Delaney, TGO's creative director. "The Green Heart in Hull will be showcased all over the world. We aim to have Green Energy Gyms right across the UK, where people can keep fit and recycle the energy they burn off into electricity."
Right now, TGOGC's outdoor gyms are only available in the UK. If you're across the pond, you'll soon be able to find one using their iPhone app.