There are some chores I've just never stopped hating. Dishes are one of them, making the bed is another. Although we've got a fairly new dishwasher it still takes some doing to get me motivated enough to start the process. We have to be down to our last couple of forks. Even after they're clean, there's still the task of taking everything out, making sure it's really dry, and putting it away.
Although using a dishwasher uses less water than washing dishes by hand, it's still a major consumer of both water and electrical energy in the household. But what can we do? Dishes have to be clean, and the only way to do that is with hot, soapy water, right? Wrong. The DualWash Bipartite Dishwasher is a complete reinvention of the humble dishwasher. Not only does it operate without water, it doubles as the cabinet so once it's loaded, the dishes are already put away.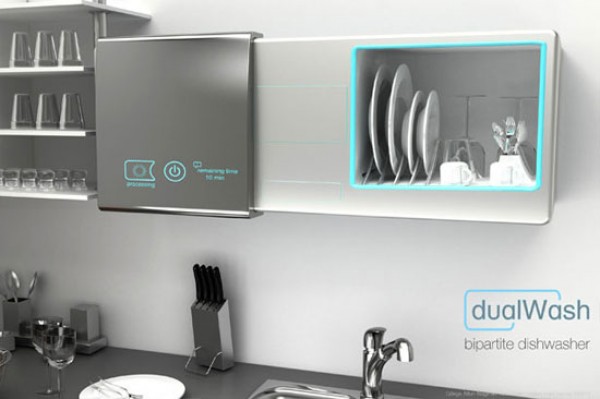 I know you're desperate to know how it works (I was too), so here it is: Instead of hot water, the dualWash would use carbon dioxide. When the washing cycle starts, the carbon-dioxide cycle is activated, and supercritical carbon-dioxide  (liquid CO2) is pumped to the cleaning chamber. "Supercritical carbon-dioxide has a very low surface tension, meaning instead of beading up into a ball like water, it spreads out widely covering all surfaces," explain the designers. As this review points out, should there be solid particles, the supercritical carbon dioxide is returned to carbon dioxide's gas phase, and forces and stubborn particles into the filter. When full, just remove the filter and clean it.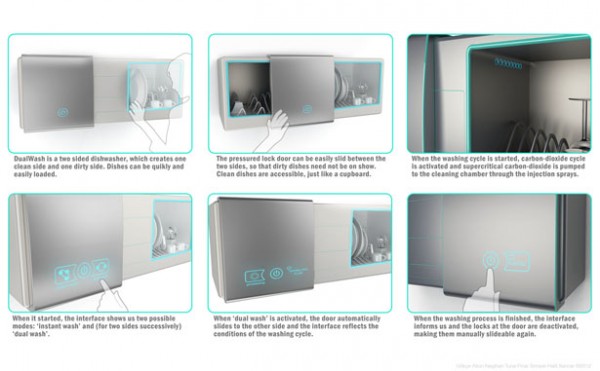 The great part is that this futuristic dishwasher has not one but two cabinet areas. Simply slide the door over the side that's due for cleaning, while the clean dishes in the other side are on display. This concept is perfect for single individuals or couples, because it allows you to wash just a few dishes without the guilt of wasting water and energy.