Even as Toyota talks of choosing hybrids en mass over electric vehicles as its choice for a global green car strategy, the Japanese automaker continues to tinker with EV design in some rather interesting ways. One of the latest of these buzzing around, of which you'll understand the verbiage choice in a moment, is currently being displayed and demonstrated at the Toyota booth at CEATEC JAPAN 2012.
The Smart INSECT, as Toyota calls it, is what is described as a"next-generation communications-linked concept model that uses information technology (IT) services to support its driver's lifestyle and activities." INSECT, in case you are wondering, is an acronym for "information network social electric city transporter," and is said to give one the image in their mind of a small insect "that flies around on large wings, in the same way as the vehicle freely navigates through and uses an information network."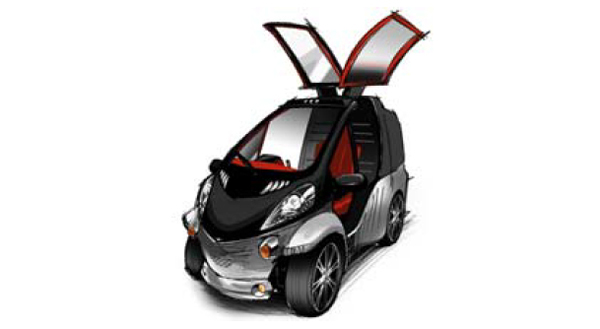 Take from Toyota's description of INSECT what you will, but this ultra-compact, single-passenger electric vehicle concept is still pretty cool nonetheless. There's no immediate specifications on items like maximum speed, driving range or charge time, but this science fiction like idea is something I envision would likely be an urban vehicle with a low speed threshold and a range of 30 miles or so in a given day.
What really stands out about INSECT is how tied it is into technologies that are designed to make a driver's experience extremely easy with regards to managing the car. Here's how Toyota spells it out in their own words:
Main Functions of the Smart INSECT Concept Model:
1. The Smart INSECT's front-mounted motion sensors use facial-recognition technology to detect and authenticate a driver registered with the vehicle when he or she approaches.
2. The vehicle communicates with the driver by flashing the front lights and greeting the driver via the instrument panel monitor, for example, with "Hello" and other displayed phrases and spoken responses.
3. The motion sensors detect the driver's movements, opening the door according to the movement of the driver's hand.
4. A "virtual agent" at the Toyota Smart Center recognizes the driver's voice and, through communication with the driver, predicts his or her intentions, setting the destination and operating various functions of the vehicle, such as the fog lamps and audio system.
5. Smartphone navigation and content can be operated by voice command via the virtual agent.
6. Through the virtual agent and voice commands, the driver can, for example, check and operate the locks and air conditioners of his or her home from within the vehicle.
As one can clearly see from this list, the vehicle virtually drives itself. While it is only a concept, it is still a very cool idea of the smart enabled electric car of tomorrow.