Remember QBotix? It's the Silicon Valley startup that in September unveiled a system that uses a robot sliding along on a track to adjust photovoltaic mounting systems so the solar panels are constantly reoriented to sop up maximum sun power. The company got a vote of confidence from the U.S. Department of Energy this week, pulling in a $972,874 SunShot Incubator 7 grant.
QBotix was one of 10 grant recipients in the program (see the DOE's list of the winners here) that's intended to "launch new startups and business units within existing companies to accelerate innovative solar technology development."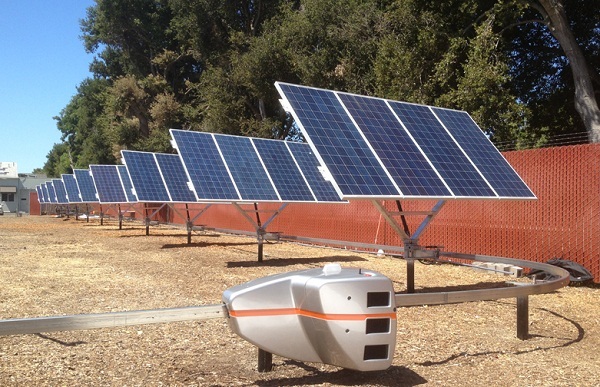 A total of $10 million went out in this round, bringing the program's total outlays to $92 million since it was started in 2007 under the Bush administration (and you thought only the Obama administration picked winners and losers!).
The DOE claims the $92 million – amounting to 0.0027 percent of the fiscal year 2012 budget (but spread over several years) – has helped draw in $1.7 billion in private investment, or $20 for each dollar the feds have put up.
There have been losers, as you'd expect in an incubator program in an industry that's as globally competitive as solar. Abound Solar, in Colorado, got funding back in 2007 and has failed, and in quite ugly fashion.  The Intel spinoff SpectraWatt also bit it. And just this week, the concentrating photovoltaic company SolFocus, while still alive, said it was seeking a buyer.
But other early funding targets – Semprius, 1366 Technologies and Alta Devices among them – are still slugging away, trying to bust out.
Among the latest crop of companies receiving funding, Stion was the biggest winner, getting $2 million "to continue pilot production and scale-up of its ultra high-efficiency thin film modules based on proprietary tandem junction technology," the company said.
At the other end of the spectrum, Seeo,  of Hayward, Calif., was awarded $317,536 (with a cost share of $79,384). What's the hope? According to the DOE:
Seeo, in partnership with SunEdison, is developing an Energy Storage System (ESS) that pairs the breakthrough lifetime of Seeo's solid-state battery with a set of control analytics designed to optimize performance when operated alongside solar. This program combines a field demonstration with an evaluation of how financing mechanisms such as power purchase agreements (PPAs) and leases can be employed to accelerate adoption of distributed PV with advanced energy storage.
Editor's note: This story was updated after its original publication to correct the identity of the company that received the largest grant among the 10 recipients.