The job is finished. Tokelau is virtually solar-only, apparently fulfilling its boast to become the "world's first solar-powered country."
New Zealand on Monday announced that the tiny island territory it supports – which consists mainly of three atolls that have a land area one-fifth the size of Manhattan and a population around 1,400 – is now capable of producing more than enough solar power to meet average electricity demand.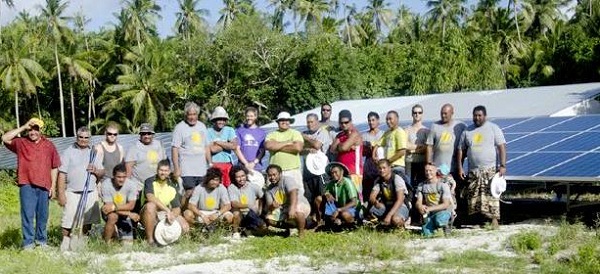 So … does that mean all of Tokelau's electricity will come from the sun? Not quite, it seems, if you're going to be a stickler about it.
New Zealand, which supported the solarizing of Tokelau with $7 million in aid (NZD – $5.5 million US), said on Monday that "completion of a third New Zealand-funded solar power system in Tokelau" meant that "almost (emphasis added) 100 per cent of the territory's electricity needs are met through solar generation."
Exactly how much of the territory's electricity will come from solar and how much might come from other sources has long been a little difficult to nail down. Some earlier reports had said the solar project would meet 150 percent of Tokelau's energy demand; some have said 93 percent power would come from solar, with 7 percent coming from a planned coconut biofuel industry.
What seems to be the case is that even with lots of solar, the country might need just a little bit of that dirty old diesel juice once in a while. The mini-grids on each of the three atolls add up to 4,032 solar panels and about 1 megawatt in generating capacity – enough to "almost eliminate diesel fuel use," the New Zealand Aid Programme said back in August, as the project was unfolding. The diesel use would likely come in the case of emergencies, Tokelau's head of government said a few weeks ago.
"We are looking at some, for emergencies, maybe we still need diesel. And then maybe we will be making some plans for when diesel will phase out," Kelisiano Kalolo said, according to Radio New Zealand International.
Anyway, however you cut it, Tokelau has made a great step forward. It had been bringing in 2,000 barrels of diesel a year – a costly proposition for a country estimated to have the smallest GDP in the world – so it doesn't figure on taking long for the solar power system to pay for itself.
"Tokelau will benefit from its investment in renewable energy for years to come not least because it will enable it to redirect its resources from buying imported diesel into other activities which will improve the lives of Tokelauans in Tokelau," Jonathan Kinds, administrator of Tokelau, said in a statement.