There's buzz in many parts of the world about engineered wood as the ideal sustainable material for future buildings, even tall ones. Last fall, Melbourne, Australia staked a claim as home of the current tallest wood-framed building, a condo building called Forte. Last week, Vancouver architect Michael Green, a leading proponent of wood, announced plans to break ground on North America's tallest wood-framed building, in Prince George, northern British Columbia.
(Expanding markets for engineered wood is on many people's minds in Prince George, at the heart of the recent mountain pine beetle epidemic and subsequent salvage logging.)
The Australian and Canadian designs are 106 and 90 feet tall, respectively, and may be far outstripped by the proposed 265-foot Barentshus in northern Norway. (The US will not be competing in this arena until building codes are changed, which is not expected anytime soon. On the other hand, we can trump them all with a natural wooden structure 379 feet tall. That would be a redwood tree.)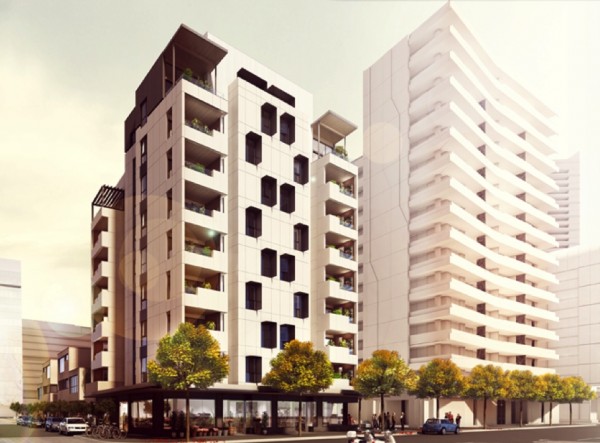 Forte is a project of Lend Lease Corp. Ltd., the huge development firm that built the Sydney Opera House and had a hand in the Petronas Towers—the World's Tallest Skyscrapers from 1998 to 2004. They are clearly proud of the Forte and its green features, elaborately displayed on their website.
Listed features include: rainwater capture; LED lights; bike share, bike parking; car share; walkable downtown neighborhood; veggie garden on each balcony; community garden nearby; reversible heat/AC units; induction cooktop; rainwater assisted toilet; elevators with regenerative braking; solar shading; "energy-saving" windows (nothing more specific on that). It doesn't actually look like they set the efficiency bar remarkably high by current standards. Melbourne has an outstandingly easy climate, similar to San Diego's.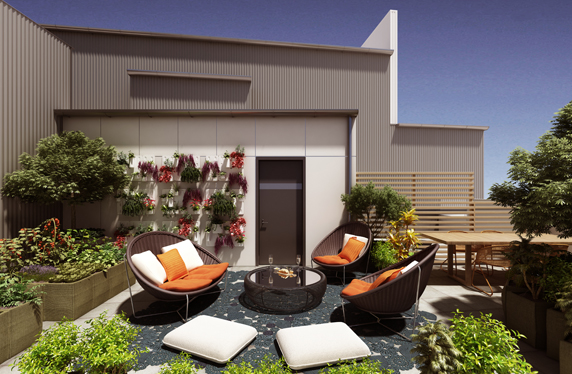 Located in Victoria Harbor in central Melbourne, and with prices ranging from US$446,000 to $825,000, these 23 "boutique" condos are clearly intended more for yacht people than bike messengers.
The wooden structural members are cross-laminated timber (CLT). Boards were glued together and compressed while stacked in alternating layers of lengthwise and crosswise grain. CLT is denser and much stronger than similar-sized simple wooden beams. Surfaces are smooth and attractive; they are exposed selectively in Forte's interior. The glues are described as "non-toxic." Interlocking joints can be pre-manufactured, speeding up construction time by, in this instance, a claimed 30%. Because of its high density, CLT is not very flammable.
CLT's proponents like to call it "the only structural material for large scale applications that has the potential to be carbon neutral." True, all the carbon in trees was sucked out of the atmosphere in the first place. And true, concrete and steel will never come close to C neutrality. However, it's far from clear that carbon-neutral CLT is realistic, ionce you account for all of the waste streams, manufacturing energy, and transport energy—and the superior carbon storage ability of moist-temperate old-growth forests. CLT's carbon footprint is undoubtedly reduced when it is made from young softwood plantation trees, as it mostly is, especially in Europe.