Where you live can have a big impact on your health. Bad air quality, a lack of green space, or too much soul-crushing traffic, and your physical and emotional health can take a nosedive. The terrible thing is, we're so used to these problems, that we consider them normal, and completely ignore the way they make us feel.
A new project by Peter Ruge Architekten aims to find out if changing the very layout and construction of a city can alleviate those problems instead of making them worse. The firm is planning a city in China's Hainan Province. It will be called 'Green Health City' and could eventually serve as a sustainable urban prototype.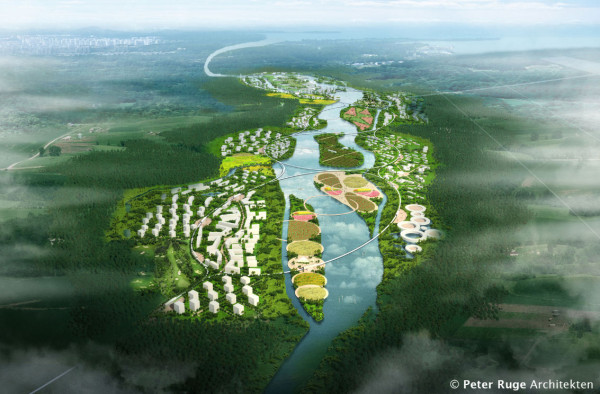 The city will be situated on the Wanquan River and would consist of five island districts, each offering a unique blend of world-class medical facilities, renewable energy production facilities and access points to an advanced transportation network.
Each of the districts will have its own healthy green theme, which serves as a guide to how the architecture and transportation options will unfold. Themes include Health, Creation, Communication, Relaxation and Transport. "Balance between these cycles and systems are applied to create a harmonious planning arrangement, promoting positive energy flow within each of the island districts and throughout the development as a whole," explains the designer on his website.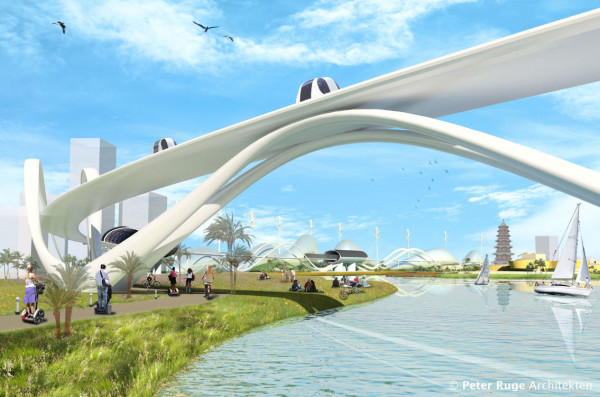 Main goals of the Green Health City's design are to prioritize natural land use while minimizing energy consumption and reducing building footprints. To that end, 70 percent renewable energy production will be facilitated through the use of wind turbines, bio gas, photovoltaic cells, hydraulic systems and smart grid energy saving devices for the storing and distribution of power. Peter Ruge Architekten claims the finished product will be 100 percent Co2 neutral.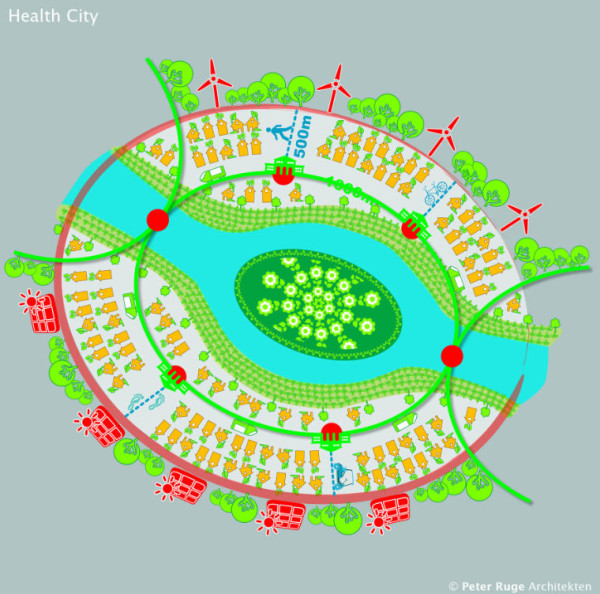 Electric cars and buses, in addition to bicycle hire services and a general circuit elevated magnetic railway network that use zero emission rechargeable battery operated power will ensure that no fossil fuels will be burned for transportation inside the city.
The overall effect is one that the designers hope will be conducive to improved health and quick healing for those who have been ill or injured.