If you've got a giant tree that shades your house on sunny afternoons, good for you; you'll stay nice and cool this summer. Of course, there is a downside to such a situation – one shared by apartment dwellers: You can't go solar.
Unless, that is, you have a solar garden option in your area.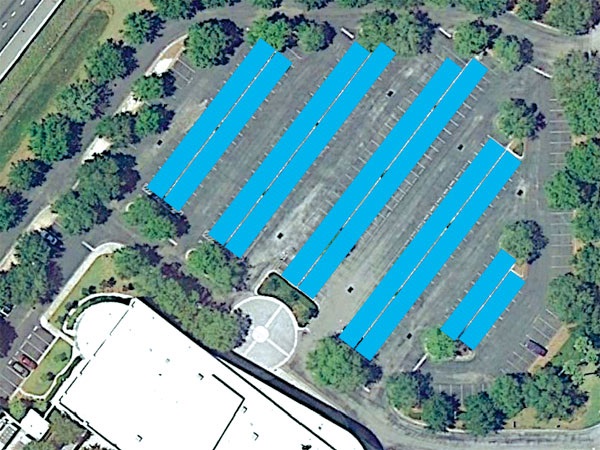 The solar garden – aka, community solar – is a fast-growing concept that can extend the money-saving benefits and environmental virtues of solar power to people who for whatever reason can't put panels on their own roof. The payoff for the larger society is huge: This is clean, distributed energy created on a small- to medium-sized scale (generally under a megawatt), which means that typically very little if any new transmission infrastructure is required.
The details of how solar gardens work can vary widely, but the basic outline is that a solar project is developed in a good, sunny spot – on a big roof, or a few acres of land. The developer might be an existing organization like a church, city or school, or a new one formed for the specific purpose of creating the solar garden. That developer takes advantage of federal and (if available) state and local incentives, and sells subscriptions to the project to community residents. The subscribers trim their energy bills by receiving credit for a portion of the energy produced commensurate to their subscription fee.
If this sounds like something you want to take part in, the first thing you might do is check with your electricity provider to see if it offers a program. Some states are friendly to the kinds of ownership structures that make solar gardens possible, and programs are springing up around the country. Colorado passed a law to promote solar gardens and it was met with immediate enthusiasm, and Minnesota recently moved to boost solar gardens, too.
In California, Pacific Gas & Electric and Southern California Edison last year worked to derail a bill that would have given their customers (and San Diego gas & Electric's) the opportunity to essentially buy solar power, as subscribers, from a shared project, and then get a credit on their electricity bill for the power produced. But advocates are back, and two different bills are making their way through the California Legislature; see the advocacy group Vote Solar's website for details on these bills.
The U.S. Department of Energy lists a number of cities, utility districts and the like who offer community solar possibilities. Those programs are generally small and narrowly structured (as in, say, Arizona). Advocates would like to see laws enacted that make way for more programs, like the one in Colorado (which they'd love to see grow even larger). There, developers were given the chance to do solar projects up to 500 kilowatts in size (to give you an idea of how big that is, the typical single-home system might be 2 to 5 kW). The utility Xcel will pay developers for the power and the renewable energy credits produced; developers will sell or lease an interest in the installation to subscribers; and subscribers receive credit on their Xcel electrical bill for the energy generated by the system.
If there isn't an existing solar gardens  program in your area but you're still interested in pursuing the possibilities, check out SolarGardens Institute. This nonprofit organization is based in Colorado and holds training sessions in Denver on how to go about building a solar garden, and it offers online sessions as well. Another great organization is the Institute for Local Self-Reliance, whose articles have frequently appeared on EarthTechling.