Seventeen million people worldwide live with cerebral palsy, a disability that affects movement across a wide range of actions one can do. Some end up confined to wheelchairs which are often electric. Being that these wheelchairs qualify as electric vehicles, it means it might be possible to power them with clean energy. One innovative student team from the University of Virginia did just that, taking first place in the 2012 World Cerebral Palsy Day "Change My World in One Minute" competition as a result.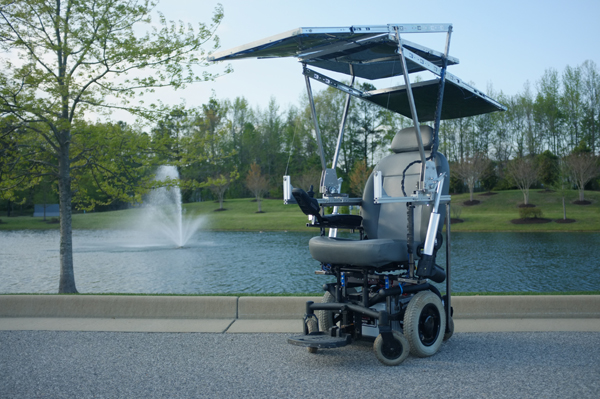 These students, from the college's School of Engineering and Applied Science, developed a solar-powered wheelchair with retractable panels based upon an idea from one Alper Sirvan, an individual in Turkey who posted the initial suggestion for it. Said to be inspired by the design of retractable roofs on convertible cars, it is quite the invention. According to the university,
the chair uses lightweight and robust materials and high-efficiency solar cells with custom-fabricated solar panels that encompass over one square meter when deployed without adding significantly to its length, width, height or weight when stored. The wheelchair can operate for more than 4½ hours at a speed of 5 mph on a fully charged battery, a range increase of more than 40 percent over batteries alone, and can run indefinitely at a speed of 1 mph on solar power alone, without using the battery.

The solar panels charge batteries even under cloudy conditions and have the added benefit of providing shade for the wheelchair occupant on sunny days. The single switch operation means that anyone who can use a joystick can operate the chair. The overall design includes standard wheelchair amenities such as a seatbelt, armrests, footrest and adjustable seating. In addition, USB power outlets are provided to charge modern peripherals such as cellphones, GPS navigation, tablet computers and items such as a fan and a reading light.
The idea originally came to light last September, where it emerged on a shortlist of possible winners after a competitive online voting process against 472 other ideas. Social activists, researchers, inventors and innovators were then invited to turn the shortlisted ideas into reality, and ultimately the wheelchair won the top prize of $20,000 from a total prize pool of $25,000. The students plan to use the bulk of the money to refine their invention before they send it to Sirvan, and the remaining cash will be "returned to United Cerebral Palsy in support of future World CP Day competitions."
"This team of graduate and undergraduate students have created a device that will truly benefit those with disabilities," Engineering School Dean James H. Aylor said in a statement. "The students on the team are excellent examples of the type of engineer we strive to produce in the U.Va. Engineering School – innovative leaders who are agents of change in society."