The Obama administration says that SunShot, the R&D program to bring down the cost of solar-generated electricity to where it's competitive with conventionally sourced electricity, is 60 percent of the way toward its goal, at least when it comes to big solar.
Citing levelized cost of energy data from the National Renewable Energy Lab, the Department of Energy said on Wednesday that "the average price for a utility-scale PV project has dropped from about $0.21 per kilowatt-hour in 2010 to $0.11 per kilowatt-hour at the end of 2013."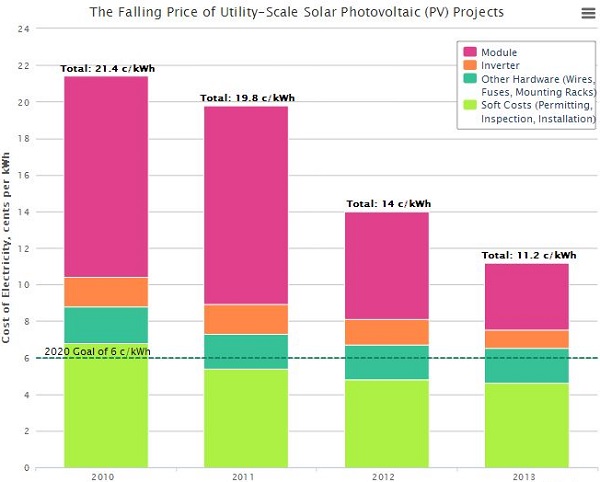 The DOE noted that the average retail price of electricity in the U.S. is 12 cents per kWh. That said, utility-scale solar electricity doesn't really compete with retail electricity (whereas distributed, or rooftop solar, does) – which is why SunShot has a 2020 goal of getting solar down to 6 cents per kWh, in the neighborhood of the cost of new natural gas-fired generation.
The administration didn't point to specific SunShot investments that have impacted the cost of utility-scale solar, but the program has supported a wide range of research and development efforts, typically with six- or seven-figure awards, occasionally larger. Many of the funding opportunities have been applicable to distributed solar, but an example of a SunShot program aimed at utilty-scale would be the $25 million grant to Soitec to open a plant in San Diego. The company makes concentrating photovoltaics panels that are used in utility-scale plants in sunny areas like the U.S. Southwest.
In any case, however much SunShot has had to do with the drop in the cost of big solar, surely a much bigger factor has been the precipitous and fortuitous (well, maybe not for Solyndra) decline in the price of solar PV, so steep that power plants that had been envisioned using solar thermal have switched to PV. The factors there have been a host of market forces – demand slipping from high growth rates, polysilicon plunging in price, the over-extended Chinese manufacturing sector dumping cheap panels all over the world, etc. The administration's loan guarantee program has probably helped utility-scale solar, as well, by getting several big plants launched and showing their viability, and the administration can also take credit for aggressively permitting large amounts of big solar on public lands.
As for how much money has gone into SunShot, with Washington, D.C., emptying out on Wednesday in advance of a forecast snowstorm, we were unable to track down a firm number. However, the Energy Department had said it was looking to spend $356.5 million on SunShot in the 2014 fiscal year.